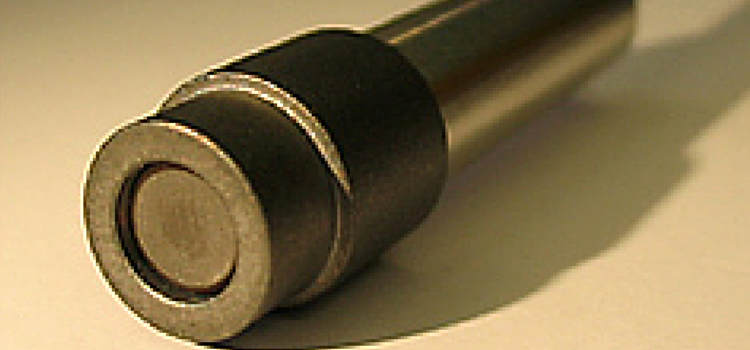 Suitable for low temperatures and high vibrations, immune to EMI
Reduces system weight and complexity
PARIS, FRANCE, June 17, 2013 – Parker Aerospace, a business segment of Parker Hannifin Corporation (NYSE: PH), and Oxsensis Ltd. will work together to develop a highly accurate, highly stable pressure sensor for aerospace applications based on innovative fiber optic technologies.
Parker Aerospace and Oxsensis Ltd. will sign an agreement during the 2013 Paris Air Show to apply Oxsensis technology to a Parker aero instrumentation system. The new technology and products will be developed by the two companies, building on Parker's system integration aero-qualification and engineering skills and on Oxsensis' optical sensor capabilities.
Collaborative R&D supported by UK Technology Strategy Board. This alliance follows successful progress on a technology-inspired collaborative research and development project supported by the United Kingdom's Technology Strategy Board.
The Technology Strategy Board's Collaborative Research and Development Project started in November 2011, when Parker Aerospace, Oxsensis, and Nottingham Trent University formed a consortium. To date, robust progress on this project has extended Parker and Oxsensis' agreement to include product development and explorationMore precise, suitable for harsh conditions. Oxsensis Ltd. brings a key new technology and expertise in developing stable pressure sensors for harsh environments and the electronics and opto-electronics for interfacing with them. Combined with Parker Aerospace's proven experience in developing reliable aircraft systems and equipment, this new technology will make Parker's future system designs even more competitive, offering a highly integrated, fiber-optic-based system for the aerospace markeParker Aerospace Principal Engineer for Gauging and Sensors Dr. Lewis Boyd commented, "The pressure sensor to be designed will provide more precision than existing commercially available electrical sensors, while also being suitable for use at low temperatures and under high-vibration conditions. The use of fiber optics is also expected to deliver a sensor that is immune to electromagnetic interference (EMI) and completely free of any metallic or electrically conductive materials.Technology moves into product application phase in two development programs. Oxsensis Chief Executive Officer Ian Macafee stated, "Oxsensis market-leading, high-performance sensor technology is now being moved into the product application phase. Since 2003, Oxsensis has demonstrated in excess of 1000°C pressure and temperature instrumentation systems operating with high accuracy and has developed multi-measurand capabilities concurrently delivering pressure and temperature data from new locations in turbo machines."He added, "The same core technology is now being deployed in lower temperature applications, demonstrating EMI immunity and superior measurement performance, including in the aerospace market — in which Oxsensis is now active in two development programs. We look forward to working alongside Parker to extend aero instrumentation capabilities.About Parker Aerospace. Parker Aerospace is a global leader in the research, design, manufacture, and service of flight control, hydraulic, fuel and inerting, fluid conveyance, thermal management, and engine systems and components for aerospace and other high-technology markets. Its product lines include primary and secondary flight control actuation, power generation and control components, thrust-reverser actuation systems, electrohydraulic servovalves, electric motor-driven hydraulic pumps, fuel pumps and valves, refueling, defueling, and aerial refueling equipment, fuel tank inerting systems; tank pressure and vent controls, level and flow control equipment; motor-operated valves and fuel equipment, lubrication oil reservoirs, lubrication and scavenge pumps, fuel measurement and management systems, thermal management products, cockpit instrumentation, lightning-safe products, pneumatic subsystems and components, water subsystems and components, fluid metering delivery and atomization devices, wheels, brakes, and fluid conveyance products such as hoses, tubes, disconnects, and fittings. It is an operating segment of Parker Hannifin Corporation.
About Parker Hannifin. With annual sales exceeding $13 billion in fiscal year 2012, Parker Hannifin is the world's leading diversified manufacturer of motion and control technologies and systems, providing precision-engineered solutions for a wide variety of mobile, industrial and aerospace markets. The company employs approximately 60,000 people in 48 countries around the world. Parker has increased its annual dividends paid to shareholders for 57 consecutive years, among the top five longest-running dividend-increase records in the S&P 500 index. For more information, visit the company's web site at http://www.parker.com, or its investor information web site at http://www.phstock.com.
About Oxsensis Ltd. Oxsensis is a spin-out from STFC Rutherford Appleton Laboratory in Oxfordshire formed in 2003. The company is backed by Venture Capital from Albion Ventures, Carbon Trust, Frog Capital, Seven Spires Investments Ltd., Rainbow Seed Fund and Strathdon Plc., together with prominent individual investors. Website: www.oxsensis.com